DIY Foaming Hand Soap
You can make your own soap, yes even you! There are many types of soap to be made, one for every skill level.
Start slow or dive right in – The choice is up to you!
Foaming hand soap is a great one to start with. It will save you a lot of money over overpriced natural hand soaps in the store.
It is super simple and you'll love the wonderful bubbly lather this soap gives. It was the first step I took to natural soap in my home. I hope it will be yours too.
You'll need the following:
Foaming Soap Dispenser – I've bought them at the Dollar Tree and grocery store. They will come with soap inside them, so empty the bottle first
Liquid castile soap (lavender is my favorite scent)
Water – I just use tap water but many recommend filtered water
Essential oils (optional) especially if you are using a scented castile soap
Start with an empty soap bottle. You can reuse one from the store once it's empty or Amazon sells some glass and plastic foaming soap dispensers. With kids, we went for a plastic bottle to prevent the glass being broken.
Fill the soap bottle 2/3 of the way full with water.
Take notice that foaming soap dispensers have a large footprint once placed inside the soap bottle. Take care when filling your bottle so the soap will not overflow the bottle when you put the top on.
Now add 6 – 8 squirts of liquid castile soap. I find this amount provides a good lather. I estimate it to be about 3 tsps of soap.
I know what your thinking, only that much soap for the whole bottle? Yup! Natural and economical
Foaming soap is awesome like that.
Next, add your preference of essential oils if your soap is not already scented to your liking. 6 – 8 drops of essential oils is sufficient. Adjust based on your desired scent strength.
Screw on the cap and shake a few times until it is incorporated and get washing!
A bottle of castile soap may seem expensive up front, if you break down the cost over the year it is very reasonable compared to many other natural soaps in the stores.
As a family of 6, one bottle lasts about 10 months in our busy home. I'm getting ready to try my hand at making my own liquid castile soap. I'll report back soon.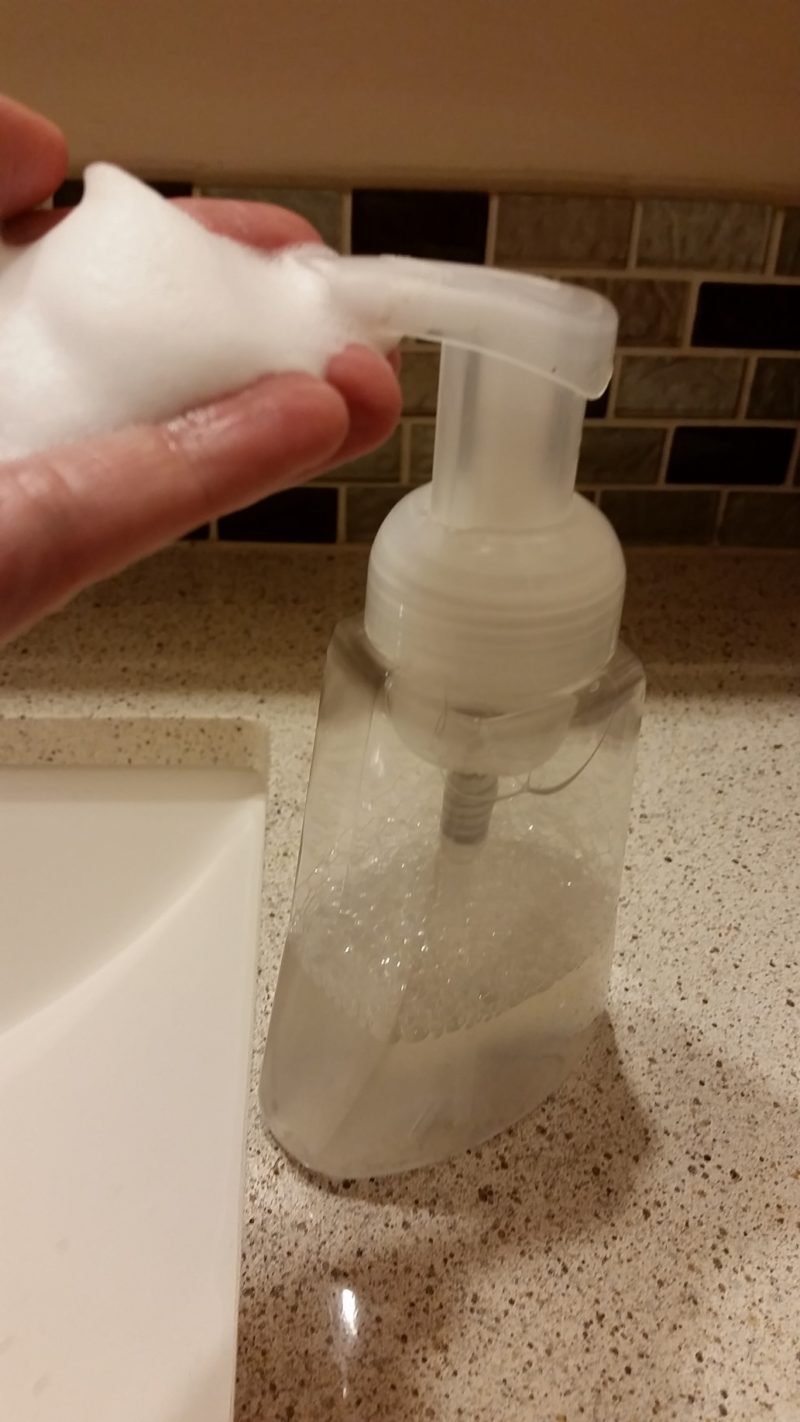 3 Shocking Secrets You Need to Know About Bathtime Safety

Get Your Free Report to Discover:
The Behind the scenes look at what you put on your child's skin

The

Truth about FDA regulations & your child's safety

Could you be unknowingly harming your child?

Simple & Actionable plan to protect those you love