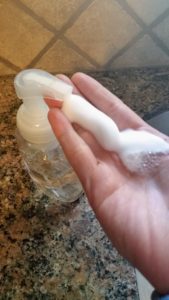 Do you love foaming hand soap as much as I do?  I'm seriously obsessed. Since I tried it several years back I can't get enough. I figured how to make my own with a DIY foaming hand soap recipe.
I can't wait to share it with you! It's so simple! My kids love to make it for me, even my 5-year-old. It's that easy that he can do it himself.
My Bubble Obsession
I am bubble obsessed. I know I'm  not alone. I love a good foaming hand soap to get my hands clean. Less time scrubbing to get up a good lather, pump out some soap and you're already there.
I love when my shampoo gets all bubbly, I feel like my hair is getting fresh and clean. If you're interested in making your own simple baby shampoo – here's a simple and effective recipe.
I admit I have a bubble obsession. Today's soaps are super bubbly. We've been conditioned to equate bubbles with clean. But bubbles does not equal clean.  It's the soap that washes away the germs, not the bubbles. Even a soap with little lather cleans just as well. We perceive that the one with lots of bubbles cleans better.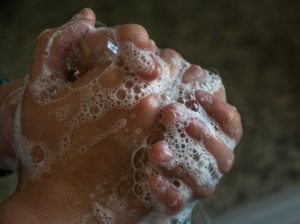 If you feel that way too, don't feel bad. I know bubbles don't equal cleaner, but I still love them anyway.
What'a girl to do? Just enjoy the bubble fun. Check out the recipe to make your own DIY Foaming Hand Soap Recipe and get bubble happy.
DIY Foaming Hand Soap Recipe
It's simple, crazy simple. For a while, I would buy refills of foaming hand soap. Then I realized I could make it myself. For a fraction of the cost. And I could control the ingredients. Score!
There are two key ingredients you will need to make this DIY Foaming hand soap recipe a success. If you prefer a video, keep scrolling.
Ingredients
Foaming Hand Soap Dispenser – it MUST be a foaming hand soap dispenser
Liquid Castile Soap
Water
Directions
Unscrew the cap and remove the pump for the hand soap dispenser.
Add water to the bottle and fill the bottle 3/4 of the way up. Foaming soap dispensers take up more room inside the bottle. Test fit the pump again before proceeding to make sure it's not too full.
Add 2-3 teaspoons of liquid Castile soap to the bottle. I usually add 7-8 squirts instead of using measuring teaspoons. It's fast to just squirt some soap into the bottle directly. And less messy.
Insert the pump back into the bottle and screw it on. Give it a good shake and you'll all set.
That's it! You just made foaming hand soap. The crazy part is it is mostly water!! So easy to do and easy on your wallet instead of shelling out $4 for a new hand soap.
So Easy a 5-Year-Old Can Make It
Here's a quick video tutorial on how to make your own hand soap, courtesy of my 5-year-old son. He loves to refill the soap dispensers with me. It's a fun learning experience for him and me. Something you can easily do with your own kids.
I do supervise him the whole time, to avoid a spill. It's something that he can do on his own. To be on the safe side, I recommend supervision.
DIY Foaming Hand Soap Recipe FAQ
How Do I Scent My Soap?
Easy peasy!
If you prefer a scented DIY Foam Hand Soap recipe, it's really easy. Just use castile soap already scented with essential oils.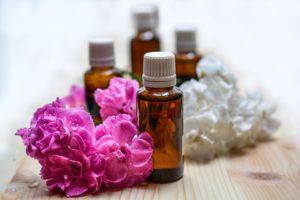 Some recipes will recommend adding additional essential oils. It's not necessary and just another step. Another ingredient to buy. You're all set with a scented castile soap. It makes things really easy.
My favorite is the lavender scented castile soap. If you use it for exclusively for foaming hand soap, a bottle will last you well over a year. I use it for so many things in my home so it doesn't last me as long. Here is my favorite Lavender Castile Soap by Dr. Bronner's.
Help! My Foaming Hand Soap Pump is Clogged
If your pump gets clogged, run some really hot water through it. Put some hot water in a separate bottle and pump the hot water through. It helps clean out the junk. It happened if I added regular soap instead of castile soap. It also happened when I used the dollar store foaming soap pump.
To do this, put some hot water in a separate bottle and pump the hot water through. It helps clean out the junk that caused the clog.
If you try to use regular hand soap it works but clogs more often. I recommend using castile soap. Skip the dollar store foaming soap pump, they tend to clog as well.
Not Enough Suds
Depending on how hard or soft your water is, you may need to add more soap to the mix. We have soft water so I may have to use less soap than you do.
It's easy – add a few more squirts and see if it foams the way you want it to.
Here are two pumps of soap.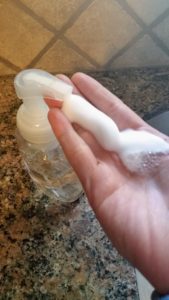 And for those who are bubble obsessed like me, here are 5 pumps of soap.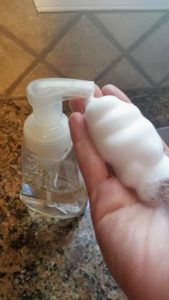 Notes on Foaming Hand Soap Dispensers
Foaming hand soap dispensers have a mechanism in the pump that causes the foaming action. I've used regular hand soap instead of castile soap with success. In case you don't have castile soap to make the DIY hand soap recipe.
I've used quite a few foaming hand soap dispensers in my day. Ranging from Method Foaming Hand Soap to the Dollar Tree Version to the Walmart Version to Amazon's version. They all worked pretty well. Amazon's pumps were the best. The Walmart disposable version outlasted all the other disposable foaming hand soap dispensers. Plus they don't clog.
The pumps are reusable, so once the soap is gone, just refill.
My Mom bought a glass oil rubbed bronze version for her bathroom. I have a total crush and want one! With little kids, We will stick with the plastic for now until they are a little older. While I love using glass to avoid plastic, no one is ingesting the soap. Just using it to wash hands so I think it's all good.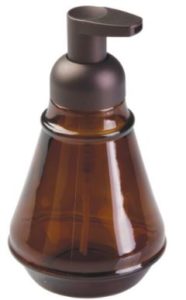 There are some great plastic BPA versions on Amazon. The plus is you don't have to hassle with removing the label if you're OCD about that kind of stuff like I am.
Get Making Soap!
Make some foaming hand soap today! Get your hands on some castile soap and a foaming soap dispenser and you're all set.
You can also buy everything from Amazon and have it delivered right to your door. (My favorite way to shop). The initial investment will save you lots of $$ in the long term plus you have full control of what goes into your soap.
Happy soaping! Make sure to pin and share this with your friends so they can join the fun!
Be sure to check out my Etsy shop for my handmade soaps and deodorant too!