Looking for some clever bath toy storage ideas? You've come to the right place!
These clever bath toy storage ideas will get all those bath toys off the tub floor. Avoid a dangerous tripping hazard. I bet you've stepped on a rubber ducky one too many times!
Prevent mold growth on bath toys when you organize your tub – so many simple bath toy storage ideas to help make it easy. Found a moldy bath toy? Check out this post about preventing moldy bath toys and how to clean bath toys. A bathtub is an ideal place for mold growth, stop it before it starts!
Why Simple?
The goal is to make bath toy storage simple so that you actually use the storage system. We've all seen and envied elaborate organization systems on Pinterest. You think, if I had that organization my house would never be a mess again! In real life, many elaborate organization systems fail because they are too complicated.
Organization systems have to be practical and simple. Otherwise, we won't take the time to use them. When we have too many things, it makes organization a challenge.
Overwhelmed? Downsize!
Before you organize, sort through the bath toys and keep those your child actually plays with. We used to have loads of bath toys too before we downsized. I realized my kids ignored at least half of their bath toys. I remember cleaning around this annoying suction cup bath toy every week. Now I kick myself for not getting rid of it sooner. What a waste of my time cleaning that thing!
Here's a simple solution to make help you downsize your bath toys. Make a pile for each of three categories. You'll be done in less than 5 minutes!
Keep pile – Any toy your child plays with regularly and enjoys
Throw away pile – Any toy with mold inside the toy that cannot be

cleaned. Any worn out bath toys

Donate pile – Any toy in good condition that your child does not play with.

Pay attention a few days before you downsize the bath toys. Take inventory of what your child does and does not play with. Donate the bath toys without your child seeing them. Otherwise, you get "but this was my favorite toy" syndrome that I'm sure heard many times before.
More is less. Does your child really need 20 bath toys? They only have two little hands after all. It's easy to get caught up in a large collection of bath toys.
What about Mold?
I know you may be hesitant to throw out a bath toy. Remember the tub is a breeding ground for mold. Rubber duckies with a mold inside cannot be rescued. No amount of bleach will make the mold inside go away. Combat mold with effective and less toxic cleaning alternatives to bleach. Learn how I clean my bath toys without bleach. My kids enjoy the job and enthusiastically help.
I'm so glad you're decided to clean out the pile of bath toys and keep only what you child likes. Let's move on to the step you came here for. On to the bath toy storage ideas to get your organized.
10 Clever Bath Toy Storage Ideas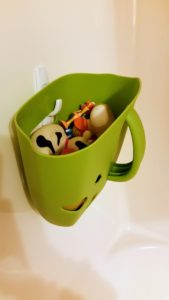 This is how to keep our bath toys organized at home. We secured the bath toys to the bathtub wall with a command hood and used our Boon Bath toy storage container. I like that our storage container has holes in the sides and bottom of the container to let everything dry out. The container is hard plastic and easy to clean.
We use the Boon frog bath toy storage scoop. There is another part to the toy organizer we just don't use to mount it on the wall. Many reviews state that they can't keep it on the wall. I agree. The solution with the command hook worked even better for us than the original design idea from Boon.
My kids can rotate the bin on the hook to dump the toys themselves – lots of fun for them. The storage scoop stays upright to contain all the toys easily. Just in case you're thinking you have to delicately balance the toys so they won't dump out, I wanted to clarify that's not the case.
This is all the bath toys we have for our 4 children. Remember going simple is easiest for cleanup and to keep them clean.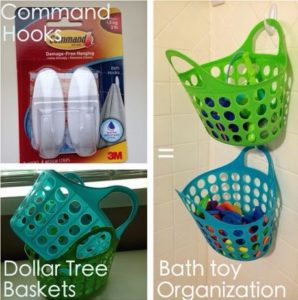 Source: Adventures in Crafting, Cooking, and Couponing
If you prefer more toys and more storage Kelly over at Adventures in Crafting, Cooking, and Couponing has the solution. She uses command hooks and cheap dollar store baskets.
Kelly's a genius with this inexpensive yet super effective organization idea. Another tip is drilling some holes in the bottom of your baskets for extra drainage.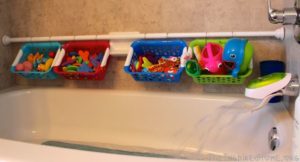 Source: The Inspired Home
Andrea from the Inspired Home has a clever idea to keep toys organized. She uses a shower curtain rod (the tension kind) to hold up the baskets. Check out her full instructions over at the Inspired Home.
Household Management 101 has a different spin on the curtain rod storage solution. If you prefer your kids can't have full access to the bath toys this is a better solution. Plus it keeps toys out of your way while you take a shower.
A mesh bag makes a great toy holder! It lets air in to help toys dry faster, plus you can see through the bag to find toys more quickly. There are many versions of this. You can buy one premade or make your own version with a cheap lingerie bag.
I love that you can close it up and throw all your toys in the washing machine for a quick wash to clean them!
Here is the handmade version from makeit-loveit.com. It is just so darn cute!!! I will be making one of these soon. Plus they would make a great baby gift!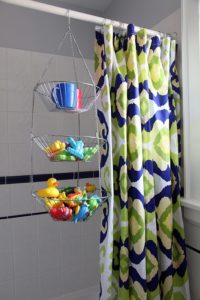 Source: 8footsix
Here's another genius idea from 8footsix.com. Shannon picked up a hanging fruit basket at a thrift store and used it as her bath toy storage. What a super creative and simple way to organize bath toys!
Use cheap dollar store baskets and attach them to the tub wall with suction cups. What a genius solution!! I love how many holes the baskets have to let the air flow dry out the toys. I think a few drainage holes in the bottom would be helpful too. Check out the full post here over at realhouselife.blogspot.com.
These baskets are cleverly attached to a towel bar in the shower. Shower curtain rings are used to attach the baskets to one another. How cool is that?
Munchkin's Super Scoop Bath toy organizer is a great way to store toys. The mesh compartment makes it easy for the toys to dry thoroughly, preventing mold growth. The handle makes scooping up toys a breeze.
There are some complaints it doesn't stick to the wall well while others rave about it. If it doesn't stick – I'd resort to the handy command strips! I use them everywhere! They have held up for us in our bathtub for well over a year and still holding strong!
Get Organizing
Now that you've got lots of choices to choose from, pick one of these awesome bath toy storage ideas and get started. There is a solution for everyone!
Organizing your bath toys only takes a few minutes with the right tools. Aka the right bath toy storage solution for your family. Plus you don't have to break the bank to get organized in the tub.
If you enjoyed this article – share it with friends and family.
Share the love and Pin this article!