Looking for the best bath toys to avoid sneaky mold growth? I bet you've had a run-in with a moldy rubber ducky. You're not alone.
You've come to the right place! Never cross paths with another moldy bath toy.
The solution is to prevent the mold from starting. Once your toys get moldy inside, it's virtually impossible to get rid of the mold. Toss the rubber ducky – you can't get in there to scrub and clean it out.
Here's the master list of the top 10 best bath toys to avoid sneaky mold growth.
These toys are genius! You can still have a squirty toy and keep a mold free bathtub.
They come apart for easy cleaning! Ubbi squeeze toys are even dishwasher safe. They are PVC, BPA & Phthalate-free.
The top and bottom piece twist apart for simple cleaning. Plus the top and bottom pieces are interchangeable for even more fun! How awesome is that?!?!?!
Munchkin Caterpillar Spillers Stacking Cups are a big hit in our house. I love that there are multiple cups, so less fighting over the same toy.
My kids have so much fun with these. They are so much fun to stack, fill with water, and watch the water cascade out the bottom! Each cup is unique. They have different size holes in the bottom of each cup – keeping those little minds guessing.
You can stack the cups together for easy storage. Or teach your little one the concept of biggest to smallest. The bright colors make learning colors fun!
The possibilities are endless. The set is inexpensive and holds up great! Ours are several years old and still look brand new.
I love they are super easy to clean – I have washed them in the top rack of our dishwasher many times.
Source: www.munchkin.com
These are super fun to play! They float in the water and stick to the tub walls when wet. You can spell their name or funny words on the wall too.
Make sure to dry these out first before storing them away. We keep them stuck on the bath wall to dry them out overnight, then you can put them away.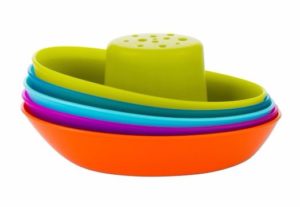 Source: Booninc.com
Boon's fleet stackable toy boats are pretty cool. When you hold up the boat, water cascades out of the holes in the middle of the boat, like a waterfall. They are stackable for easy storage. Just wait to stack once they dry or you're inviting mold growth. They are BPA free, Phthalate free and PVC free to boot!
These little suction cups are super cool. They stick to the tub wall and each other. Your little one can be creative and make all kind of shapes with Jellies Suction Cups. Even build a Jellies tower!
9 BPA Jellies Suction Cups are included. They are recommended for children 12 Months and up.
With textured rings, these bubbles rattle and spin while floating in the water. No water gets inside the sphere to keep them mold free.
Lots of fun. Recommended for babies 4 months and up. These fun bath toys are BPA-free and lead-free.
Source: Munchkin.com
Let your little one go fishin' in the tub. So much fun and great for hand-eye coordination.
You get a fishing rod that collects the three little characters with a magnet. No hook included 😉
Plus those three little characters have no holes for water to get inside and cause mold. These are recommended for kids 2 years and older.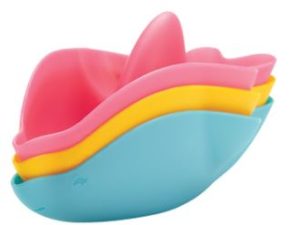 Dolphins
Source: ubbiworld.com
These come in cool shark or dolphin shapes and are stackable. Dishwasher safe for easy cleaning and without small holes to grow mold.
I just love Ubbi with their lifetime guarantee on every set they sell. Their products are awesome too – makes a lifetime easy when you have a great product. Right?
This is not a typical rubber ducky. There are no holes for water to get inside the duck. That means no mold growth.
This is no home on the underside to squirt water. Instead, here is a small disc that gets white with the words HOT if the water is too hot. How cool is that?
The Duckymeter Rubber Duck is another awesome option.
You get a water temperature reading on the rubber ducks back. It's color coded to make it even easier!
Bonus – Free Bath Toys
If you'd prefer to save a little money and not buy any bath toys. There are a lot of common household items you can use in the tub. Here are some of my favorites:
A small plastic watering can
Plastic tupperware from your kitchen
Measuring Spoons
Measuring cups
Large plastic ladle and spoons
Empty shampoo bottles with the lids on so they can squirt
Any kitchen item that is safe for your child to play with could be loads of fun. It makes them feel like a big kid by using items that are typically off limits.
Share with Me
I'd love to hear what your favorite bath toys is in the comments below! If you have a favorite mold free bath toy – I'd love to add it to the list!
Make sure to Pin this post for easy reference later.